NAPSWI GB Meeting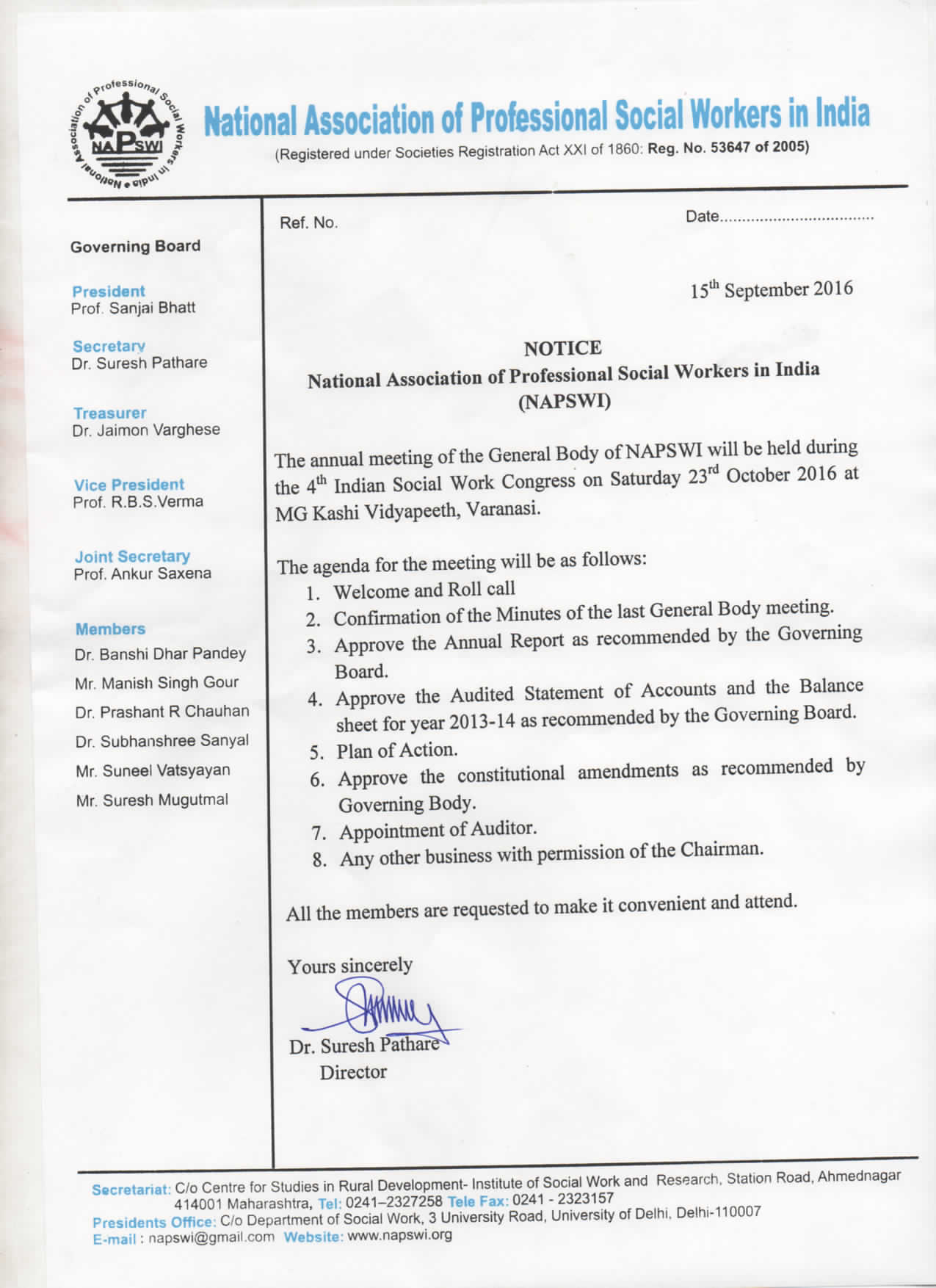 Download notice: http://napswi.org/images/NAPSWI G B meeting.pdf
NOTICE
National Association of Professional Social Workers in India (NAPSWI)

The annual meeting of the General Body of NAPSWI will be held during the 4th Indian Social Work Congress on Saturday 23rd October 2016 at MG Kashi Vidyapeeth, Varanasi.

The agenda for the meeting will be as follows:
1. Welcome and Roll call

2. Confirmation of the Minutes of the last General Body meeting.

3. Approve the Annual Report as recommended by the Governing Board.

4. Approve the Audited Statement of Accounts and the Balance sheet for year 2013-14 as recommended by the Governing Board.

5. Plan of Action.

6. Approve the constitutional amendments as recommended by Governing Body.

7. Appointment of Auditor. 8. Any other business with permission of the Chairman.

All the members are requested to make it convenient and attend.

Yours sincerely
Dr. Suresh Pathar Director
Secretariat
C/o Centre for Studies in Rural Development
Institute of Social Work and Research,
Station Road. Ahmednagar 414001 Maharashtra,
Tel: 0241-2327258 rele Fax 0241 - 2323157
Presidents Office.
C/13 Department of Social Work,
3 University Road. University of Delhi.
Delhi-110007
E-mail : napswi©gmail.com
Website: www.napswi.org